Hairy Crab Indulgence at One Harbour Road
As the weather gradually cools down, it's that time of the year again for hairy crabs! Executive Chinese Chef Chan Hon Cheong has specially created a series of seasonal hairy crab dishes for diners to experience this amazing delicacy at One Harbour Road from now to 20th December.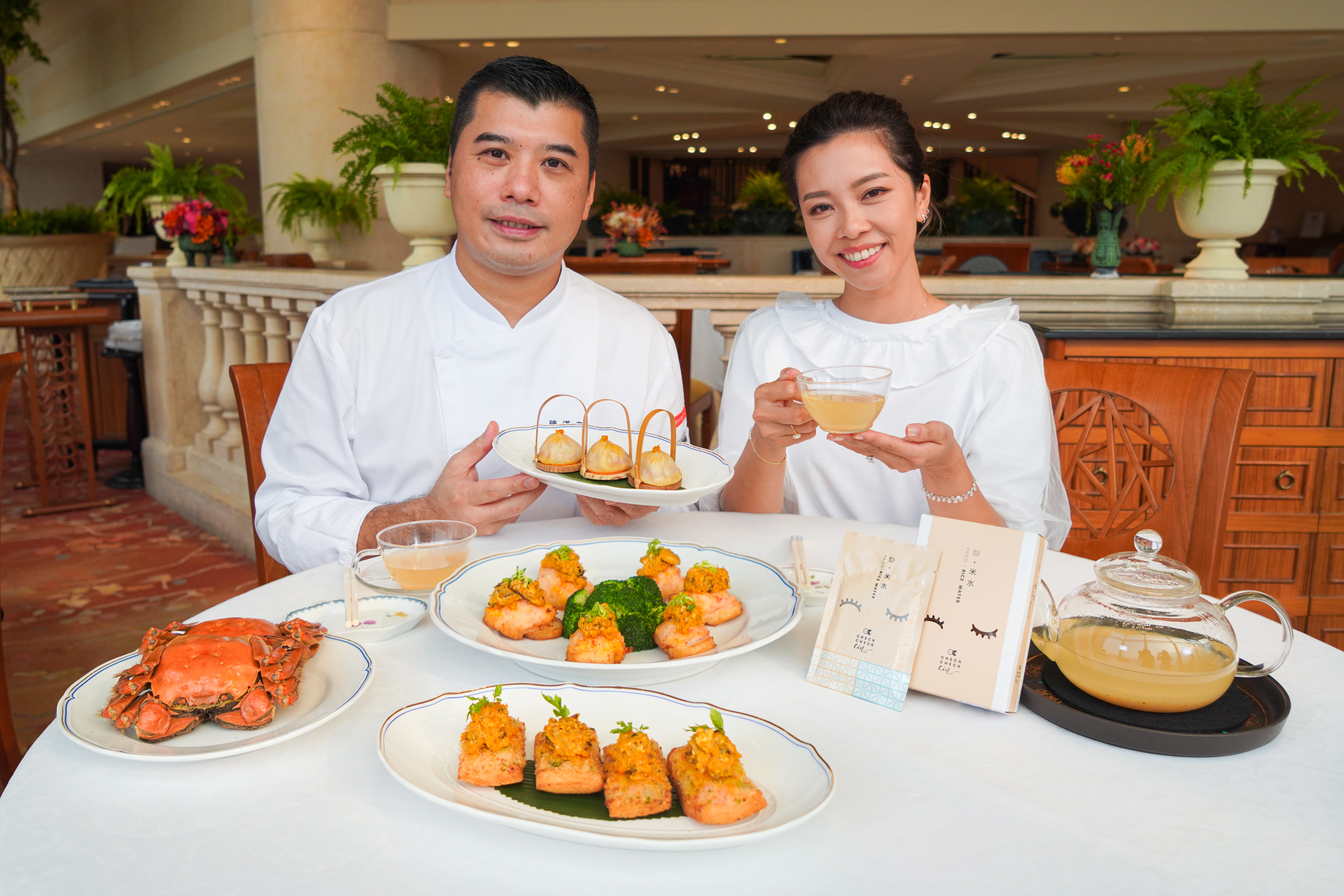 "Hairy Crab Indulgence" – Hairy crab-themed Staycation Package
This autumn, crab lovers can visit Grand Hyatt Hong Kong for a complete stay and dine experience with the "Hairy Crab Indulgence" staycation package, which includes a hairy crab-themed set dinner. This time, we are collaborating with local wellness brand CheckCheckCin, founded by Hong Kong Chinese medicine practitioner Cinci Leung, to offer our staycationers a set of healthy beverage to warm their stomach and neutralize the "coldness" from the hairy crab in TCM theories.
The brand new 7-course hairy crab set dinner menu at One Harbour Road (original price: HK$800+ per person) features steamed pork dumpling with hairy crab meat and roe, crispy Kansai sea cucumber with pork and shrimp mousse, bamboo charcoal and hairy crab sauce, and more. Crabs lovers can also choose to add a whole steamed hairy crab at an extra cost while enjoying their meal with the mesmerizing Victoria Harbour as a backdrop.
Apart from the dining experience, guests can luxuriate in an elegantly appointed guestroom while enjoying healthy fried rice water and shopping privilege from local wellness brand CheckCheckCin as in-room amenities.
Priced from HK$3,380 +10% per room per night, the package includes:
A hairy crab-themed set dinner menu for two persons at One Harbour Road (View menu)
A set of healthy beverage packages with shopping privilege from local wellness brand CheckCheckCin as in-room amenities
A 24-hour stay (Monday – Thursday arrivals only, excluding Public Holidays and Public Holidays Eves; earliest check-in time: 3:00 PM; latest check-out time: 6:00 PM; not applicable to bookings with club access and suites)
Daily breakfast for registered guests
Enjoy a special rate of HK$450 per vehicle per night for valet parking during the hotel stay period (maximum 1 vehicle per room)
*The dinner set menu is for two persons only. Additional charge applies to extra guests who would like to enjoy the set. Due to government mandated seating capacity in our restaurants, dinner will be served in two rounds of seating.
| | |
| --- | --- |
| | |
| Enjoy an elaborate set dinner at One Harbour Road feature a series of dishes made with the in-season crustacean. | After the scrumptious dinner, sip on some nourishing fried rice water from CheckCheckCin in your guestroom for a well-balanced dining experience. |
Seasonal Crab Delicacy in One Harbour Road
Executive Chinese Chef Chan Hon Cheong also prepares hairy crabs delicacies for patrons who are not staying at the hotel. Highlights include:
Steamed pork dumpling, hairy crab meat and roe

Xiao long bao, a traditional Shanghai-style comfort food, is elevated with hairy crab meat and roe. This one-bite appetizer is juicy and has an incredibly oozy texture, creating a memorable combination for the palate.

Deep fried cuttlefish and shrimp mousse toasts, pork, water chestnuts, hairy crab sauce

The inspiration for this dish comes from a classic local snack, the deep fried shrimp mousse toast. Chef Cheong decided to elevate this dish by adding gooey hairy crab sauce on top. It is very similar to the Western-style toast with caviar, adding an extra layer and texture to the dish. This savoury appetizer is the perfect starter for diners.

Yam noodles in fish broth, hairy crab sauce

There is no doubt that hairy crab sauce always goes well with noodles. This time, Chef Cheong has specifically selected the healthier yam noodles to absorb all the flavour from the fish broth and hairy crab sauce, giving diners a truly unique crab experience.

Perilla leaf and ginger tea jelly

Since hairy crabs have a cooling effect on the body, Chef Cheong purposely serves it with ginger, which warms up the body. By adding extra amount of ginger and freeze it into a sorbet-like texture, chef recommends that diners have the jelly together with the perilla leaf, in order to refresh their palate and to balance the diet.
Click here to view menu
Click here for more details
For enquiries or reservations, please contact 2584 7722 or click here to book now.